Wood Mountain Post Historic Park
Original site of the N.W.M.P. Post 1874 - 1918
---
The Historic Post is a partially restored North West Mounted Police post. Before the site became the monitor station of Sitting Bull and his tribes after the battle at Little Big Horn, the police patrolled the U.S.- Canada border.
In the 2 reconstructed buildings, displays depict much of the NWMP history as well as that of the Sioux who came to the Wood Mountain area. The displays also contain artifacts from two archeaological digs conducted on the site.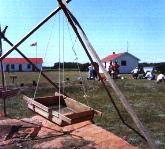 The museum is fun for kids too. You can use old style hand-cuffs on your friends, see an early View-Master (Steropticon), or sit in a 19th century jail cell.
---
---
Excellent school tour program
Tour guide on site
Two furnished reconstructed post buildings
Open daily June and July hours: 10-12 and 1-5
Open every day except Tues. and Wed. in August hours: 10-12 and 1-5
No fee: Donations greatfully accepted
Be sure to fuel-up in a nearby town if you are low on gas.

For information phone (306) 266-4322 (during working hours)



---
Mailing Address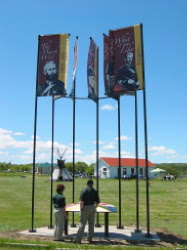 SK Environment and Resource Management
Room 206, 110 Ominica Street West
Moose Jaw SK S6H 6V2
CANADA



Return to Wood Mountain Information